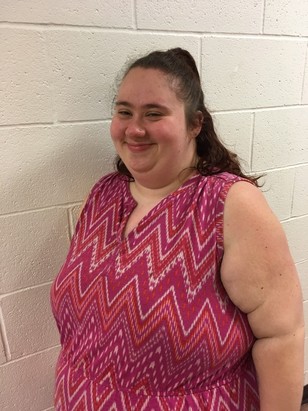 This article was written and shared by Opportunities for Ohioans with Disabilities.
Christina Pigg originally worked in dining services at a nursing home, but the job was not a good fit for her, as she struggled to keep up with certain tasks. After returning to the opportunity center at MARCA Industries, Christina met with job developer Valerie Rinehart, who introduced her to The Royal Group, where Christina is now a helper on the warehouse floor.
Christina's Vocational Rehabilitation Counselor Audrey Miller remembers when Christina had her job interview at The Royal Group and was offered the job. "She came dancing down the hall at MARCA and was so excited," said Miller. "Christina absolutely glowed with joy and excitement. Each time I saw her, she had a big smile and would say how much she loved her job!"
Christina's desire to work is fueled by her desire to find an apartment and live independently.  Her sister had found success through OOD, and she was motivated and inspired to do the same. Rinehart said that Christina has been the perfect candidate for employment. "She always comes prepared; always puts her job search first and is always ready to work hard, whether it be on interviewing skills or improving her appearance. She always gives a 110 percent."
The Royal Group produces shipping boxes for PPG and other automotive industry clients.  Christina folds and hand-assembles boxes, including die-cutting, gluing and lining them with plastic. She is also responsible for cleaning up the warehouse floor, and other duties, as needed.
At a recent review, Christina's floor supervisor Adam Cantrell said, "I wish all of my employees were like Christina. She has adapted to every new job and challenge we have given her. She never complains, she does a great job and she is everyone's friend." Amanda Appleman, Human Resources Manager for The Royal Group said she is completely satisfied with Christina's performance and sees only success. "She has made friends with the whole floor and we absolutely love her," added Appleman.
Since starting her new job, Christina has been saving her money diligently so she can move into her own place. She recently applied and is currently awaiting approval on her first apartment.  Christina's newfound success is a great example of how hard work and determination can help a person achieve their personal goals.
To find out more about the employment assistance OOD can provide to individuals with disabilities, visit www.OODWorks.com.