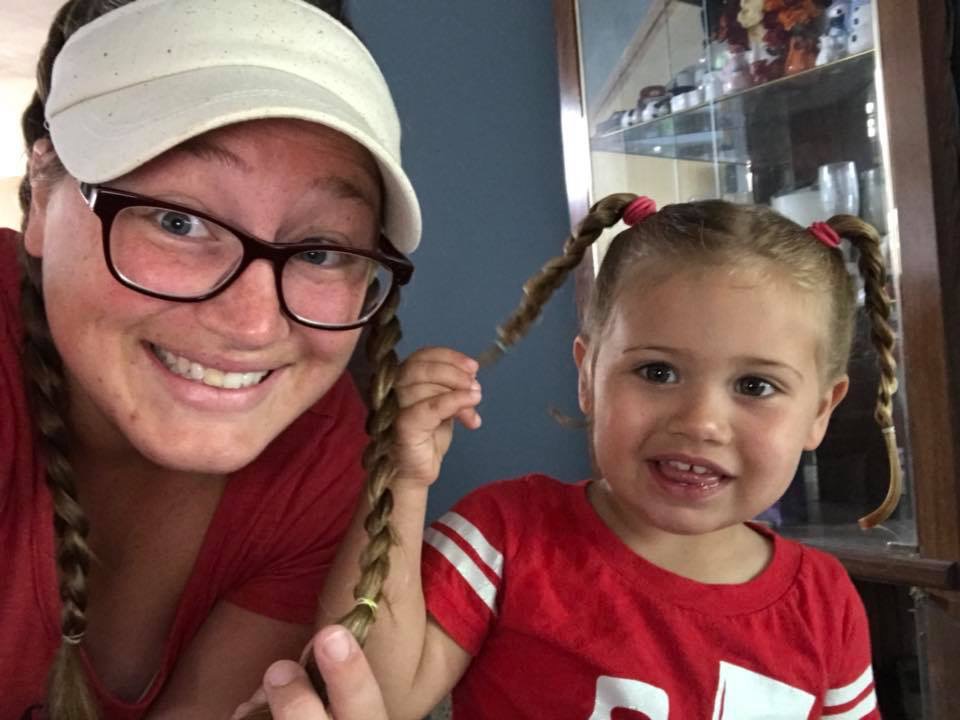 This is a guest post from Adriana Chidester. She is the mother of Eleanor who is served by Help Me Grow of Marion County and Marion County Board of Developmental Disabilities Early Intervention.
There is no handbook for motherhood. No roadmap that points out where the road gets steep or where you may have to take a detour. One day, after months, sometimes years of waiting, we meet our child. We are overwhelmed with love and quite a bit of fear. Will I be a good mother? Will they love me back? What if I totally screw up? 
Slowly, day by day, we learn. We learn that she likes bouncing more than rocking. We learn she likes her bottles room temperature. We learn she loves being outside, petting cats, and working in the garage with daddy. 
Then one day, you notice maybe she isn't progressing like her peers. You notice that time is going by and she still isn't talking. You wait, not so patiently, for the day you finally hear her say "mama". You wonder if you could have done something differently, taught her more, provided something different. 
Eleanor has never taken the straight and easy path. After learning she couldn't hear well and having many, many ear infections, we had tubes placed and were hopeful it wouldn't be long before she was babbling away. Months and months passed, waiting to hear those precious words start tumbling out; and still nothing. Finally, two months before she turned two, she said mama. What a wonderful day! We thought that after her first word more would come, and a few did but we still struggled to communicate. 
Imagine knowing exactly what you want to say, exactly what you want, and having no way to tell someone else. Eleanor was trapped. Trapped inside a mind that was completely present, inside a body that appeared "normal", yet she couldn't make anyone understand her, and she desperately wanted to be understood. In May of 2018 we contacted Help Me Grow to have Eleanor evaluated for a speech delay. They linked us in with Marion County Board of Developmental Disabilities and the two organizations worked hard to help us. Lori and Marci were AMAZING. Adults, who took the time to understand what Eleanor could say, and made her feel so special. We started speech therapy, meeting with Lori and Marci, and giving Eleanor the skills she needed to progress. 
What started as 15 words in May, became 100 words by September. Eleanor started school at Marie English Early Childhood Center. She made friends with her peers, continued to attend speech and has an incredible vocabulary (dinosaur names are her specialty). Watching her grow, seeing her reach milestones we weren't sure would come has been my greatest privilege as a mother. Is it easy? NO; but Eleanor is worth every hard day. Hearing her say "I love you mama" or talk to her little sister is the best part of my day, every day. 
The services that MCBDD provides are life-giving. They give mothers who feel like they have no other options hope. They help our children live happy, productive, fulfilling lives. Even if it's as simple as learning how to speak. I am beyond blessed to be Eleanor's mom. She teaches me, inspires me, and sometimes drives me a little crazy with all the dinosaurs, but mostly she is what makes me a mom, and that is the greatest blessings of all.
So there is no handbook for motherhood. We learn as we go and we take the detours as they come. Mostly, we enjoy the drive with these awesome people we get to call our children.