Sheriff Bayles has created a community culture within the walls of the Marion County Sheriff's Department, and the Marion County Board of Developmental Disabilities (MCBDD) felt this firsthand.
Service and Support Administrator, Amanda Blackburn, was on a mission to help someone she supports with transportation needs. Jesse Demico is twenty years old and wants to gain more independence. He does not have a license, so transportation challenges made it hard for Jesse to reach this goal.
When Blackburn brought this to light within the agency, Cheryl Plaster, Superintendent of MCBDD, reminded Blackburn of the prison program to fix bikes retrieved by the Sheriff's office. Blackburn followed the lead to discover that this program no longer existed.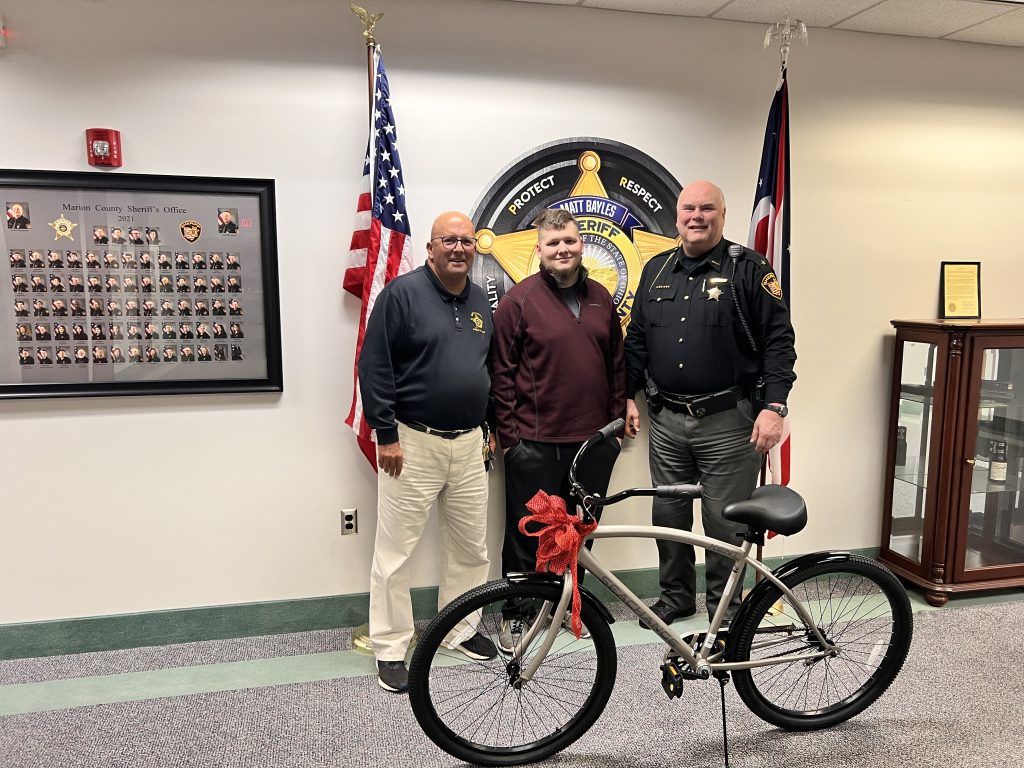 MCBDD then reached out to the Sheriff's office to see what they do with those repossessed bicycles, hoping the agency could get one for Demico. Unfortunately, the Sheriff's office had some bikes that needed work and were unfit. Rob Morgan, an employee at the Sheriff's office, used to work at the prison. With this connection, he immediately asked if he could help get Jesse a bike. Morgan got Marion Correctional Institution (MCI) to help with the project but decided it would take too long. The next day, Demico had a brand-new bike purchased by Morgan to help him achieve his independence.
"The kid needed a bike – NOW," Morgan said. "I felt like I could help him out. So, I did. It was no big deal."
Of course, Blackburn was thrilled and couldn't wait to share the news of Morgan's generosity with Demico. "The first place that I will go is my mom's house. Then maybe my aunt's," Jesse said when asked where his first ride would take him. "It feels great to be helped like this, and I can't thank Rob enough for the bike," he added.
When Sheriff Bayles was asked what he thought about the compassionate exchange between Morgan and Demico, he simply said, "Rob's generosity was not a surprise to me at all," he said. "That is the type of person that he is. He is the first to volunteer if something is needed, and he truly cares about people. I am proud to have him at the Sheriff's Office."
Bayles adds, "A goal of mine has been to have more community involvement between our office and the community. While at the Marion Police Department, I saw what the MPACT program did for this community and was determined to bring that same type of involvement here". I think we are well on the way to doing that. We have developed programs towards that goal."
Morgan used his connections at MCI to resurrect the bike refurbishing program to help those with developmental disabilities receive them to support transportation goals for independence. MCBDD is feeling the reward of the Sheriff's plan, and we are grateful for the bike and the future partnership.